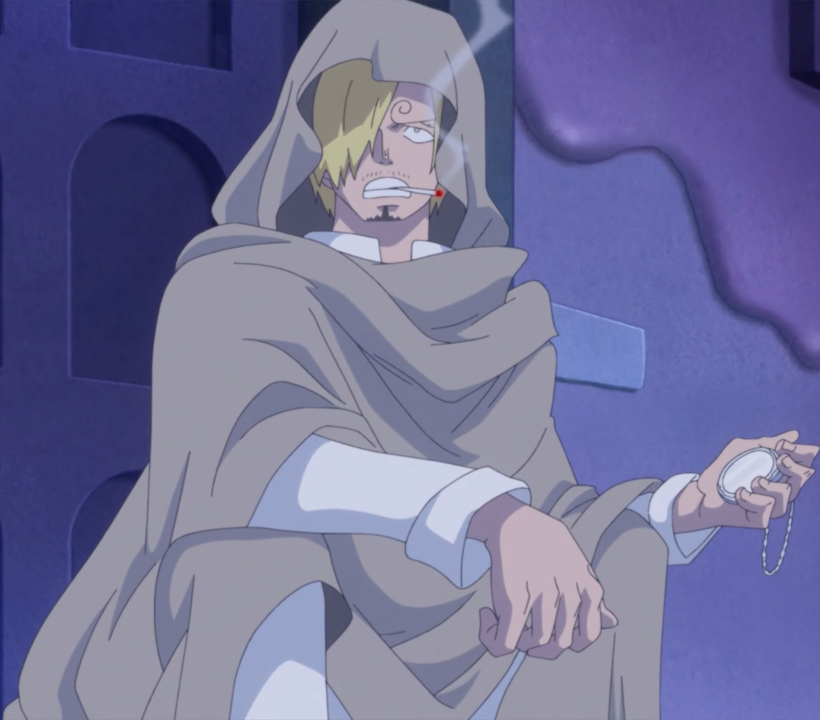 Scroll down to see the English translation. or click here
Banyak yang penasaran tentang siapa saja anggota bajak laut topi jerami atau strawhat pirates (SHP) yang punya kemampuan menggunakan haki. Karena setelah time skip 2 tahun hanyalah luffy, zoro dan jinbei saja kru bajak laut topi jerami yang sering diperlihatkan dengan jelas menggunakan kemampuan haki seperti haki busho dan haoshoku haki.
Banyak pertanyaan apakah sanji bisa menggunakan haki, jenis haki apa yang bisa sanji gunakan dan pada chapter episode berapa sanji diperlihatkan menggunakan haki. Berikut ini adalah momen sanji menggunakan haki di manga dan di anime.
SBS Vol 71
Oda sensei mengkonfirmasi jika sanji mampu menggunakan haki. di SBS volume 71, djielaskan jika sanji dominan dengan kemampuan Kenbunshoku Haki. Sanji sering diperlihatkan menggunakan Kenbunshoku Haki untuk menghindari serangan ataupun merasakan keberadaan seseorang.
Chapter 668 & Anime Episode 594
Luffy di chapter 668 berkata pada law jika dia, zoro dan sanji mampu menggunakan haki sehingga mampu melukai caesar yang menggunakan kemampuan buah setan tipe logia. Karena hanya pengguna hakilah yang sanggup melukai pengguna logia.
Chapter 833 & Anime Episode 794
Pada saat sanji melawan ayahnya, vinsmoke judge. Ayahnya terkejut dan berkata jika sanji mampu menggunakan haki (Busoshoku Haki) untuk menendangnya. Namun karena sanji meggunakan celana berwarna hitam membuat haki yang berwarna hitam menjadi tidak terlihat.
Chapter 862 & Anime Episode 832
Di manga chapter 862 saat arc whole cake island, sanji diperlihatkan mampu menggunakan Kenbunshoku Haki untuk menghindar dari tembakan kacang katakuri
Chapter 864
Sanji menghidari temabakan pistol puding menggunakan Kenbunshoku Haki
Apakah sanji bisa menggunakan haoshoku haki ?
Di manga dan dianime, sanji belum disebutkan/ belum terlihat menggunakan Haoshoku Haki. hanya luffy saja yang sering diperlihatkan menggunakan haoshoku haki seperti saat luffy membuat pingsan angkatan laut di marine ford, membuat pingsan anak buah hody jones di arc fishman island dll.
Kesimpulan
Kesimpulan : sanji mampu menggunakan haki berjenis Kenbunshoku Haki dan Busoshoku Haki sedangkan belum diperlihatkan bisa menggunakan haoshoku haki.
Many are curious about who are members of the straw hat pirates (SHP) who have the ability to use Haki. Because after 2 years skip time is only Luffy, Zoro and Jinbei only the straw hat pirate crew who are often shown clearly using the ability of haki like busho haki and haoshoku haki.
There are many questions whether Sanji can use Haki, what type of Haki can Sanji use and in which episode episodes Sanji can be shown using Haki. Following are the moments of Sanji using Haki in the manga and in the anime.
Oda Sensei confirmed that Sanji was able to use Haki. on SBS volume 71, it is explained that sanji is dominant with the ability of the Kenbunshoku Haki. Sanji is often shown using Kenbunshoku Haki to avoid attacks or feel someone's presence.
Luffy in chapter 668 said to law if he, Zoro and Sanji were able to use haki so that they would be able to injure the caesarean who used the ability of the Logia type demon fruit. Because only authorized users can hurt logia users.

In chapter 833 When Sanji fought his father, vinsmoke judge. His father is shocked and says if Sanji is able to use Haki (Busoshoku Haki) to kick him. However, because Sanji uses black pants, making the black colored men become invisible. In addition, when Sanji tried to drive Luffy off the Big Mom Island, Sanji fought Luffy and was able to injure Luffy's rubber body in the whole cake island.
In the manga chapter 862 during the whole island cake arc, Sanji is shown to be able to use Kenbunshoku Haki to avoid being shot with katakuri beans.
Sanji avoided the pudding gun using the Kenbunshoku Haki
Can Sanji use Haoshoku Haki?
In the manga and dianime, sanji has not been mentioned / has not been seen using Haoshoku Haki. only luffy is often shown using haoshoku haki like when luffy made a naval faint in marine ford, fainted hody jones men at arc fishman island etc.
Conclusion: sanji is able to use Kenbunshoku Haki and Busoshoku Haki manifold haki. while sanji has not been shown to use haoshoku haki.